The Lenten Cross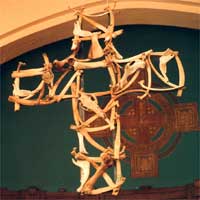 The bones on the cross were found by my sister and me a few years ago. They are the remains of farm animals that had been neglected andabandoned…dead from lack of water and lack of care.
This cross serves as a memorial not only to those animals but to our brothers and sisters, and all God's creatures everywhere, who are "the least of these" – those who thirst – those who are hungry – those who go without proper care – those who are sick and dying – those who are abandoned – those who are tortured – those who suffer.
The center of the cross is open because Jesus has broken through the anguish, pain, and death of the cross and created an opening for us to follow. It is only in following Jesus through the cross that we can find the resurrection light.
The Butterfly Kite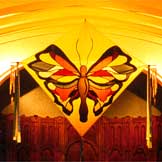 This artpiece contains multiple symbolism. It's structural framework is that of a cross. The cross beams, however, are transformed into a kite signifying that the life and hope of the resurrection enables each of us to transcend earthly limitations and "fly" into the skies of new possibilities.
The kite's tail and wind-chimes are symbolic of the multi-colored and melodious lives of those who have soared before us to live in accord with the resurrection trancendence. We are called like them to rise as a kite, against rather than with the wind, and to labor with visions of peace and justice.
The butterfly on the kite is a traditional symbol of the resurrection. From the tomb like cocoon, the butterfly rises in new life. The deep red design on the butterflies body and the four deep red wing spots are representitive of the pierced side and nail wounds of our crucified Christ.
The butterfly is also a contemporary symbol of gay and lesbian liberation. From the closet like cocoon, the butterfly rises in affirmation of identity. The butterfly reminds us that we are to engage in liberation efforts on behalf of all oppressed people.
– John G. Volkening